Intro
My name is Billy O'Shea, and I am a writer of peculiar stories.
I live in two cities – one of which is real, and one that is a shadow, an echo of the real one, but only visible at odd moments, out of the corner of your eye, in a forgotten alleyway, or on the verge of sleep. It is the second city that I write about.
It is said that a famous sculptor was once asked whether it was difficult to make a sculpture that looked, for example, like a lion. He replied that it wasn't difficult at all – you just had to remove all the bits that didn't look like a lion. Writing is like that for me. There is something hidden in the stone, and I want to find out what it is. Eventually, it reveals itself – and what is there can often be as much of a surprise to me as to anyone else.
So I hope you will join me on a voyage of discovery, to find out what's hidden there, in the Irrational Layer, just beneath the surface of what we like to call reality. Welcome to the Kingdom of Kantarborg.
Latest News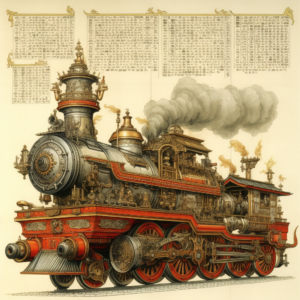 Great news from translator Emily Jin: the Chinese translation of the Kingdom of Clockwork trilogy is nearing completion, and will be published in late 2023/early 2024.
So we might be off to China soon.
The Other Mermaid
Army medic Daniel Manston has already been executed once for a crime he didn't commit, and now he's determined to stay alive. But to do so, he must solve a centuries-old riddle about the relationship between the sea people and humanity. On the remote arctic island of Svalbard, he finds an ally in Deryn, a female hermit whose task is to transcribe records of the ancient past. Together, they stumble upon a terrible truth that changes everything – and puts them both in mortal danger.
In a land of ghosts and strange creatures, what is real, and what is not? And can you tell the difference, when your life depends upon it?
Read More
Kingdom of Clockwork
When the oil and gas ran out, civilisation collapsed. Now, centuries later, mankind is once again beginning to discover the secrets of the past … starting with clockwork.
In a future Denmark, the King's clockmaker becomes enmeshed in a web of court intrigue and undertakes a fateful journey to the Far North, where he encounters many strange phenomena that challenge his rational nature.
Kingdom of Clockwork has been described as "alternate history, historical fantasy and steampunk". It is a quirky, intriguing, slightly whimsical tale of reason, magic and human cunning. The story combines real Scandinavian history and locations with flights of fancy, both literal and metaphorical.
Read More
It's Only a Clockwork Moon
In a future Denmark, Karl Nielsen, Royal Clockmaker, is recalled to the Round Tower to design the King's most ambitious project yet – a vehicle to travel into space. The second book in the Kingdom of Clockwork series is a quirky, humorous tale of Nordic monarchs, Irish monks, jazz records, airships, submarines, spacecraft and conspiracies.
Read More
A Clockwork Carol
Clockmaker Karl Nielsen has not been having a good day. He thought he was taking a short Yuletide trip to the city. Now he stands accused of treason. robbery and murder.
The darkly humorous third volume in the Kingdom of Clockwork series features a king disguised as Santa, a prime minister who might be an alien, a pregnant Irish monk and a long-forgotten Danish monster.
Read More
Den anden havfrue
På dansk ved Charlotte Kirketerp